Recently, Shanghai Chuangkun Biotech HPV(15 High-risk subtype) DNA PCR detection kit (lyophilized) obtained the Indonesian FDA registration certificate, which marks that Chuangkun Biotech's products have been recognized by the Indonesian FDA, further providing strong support for Chuangkun Biotech developing the international market.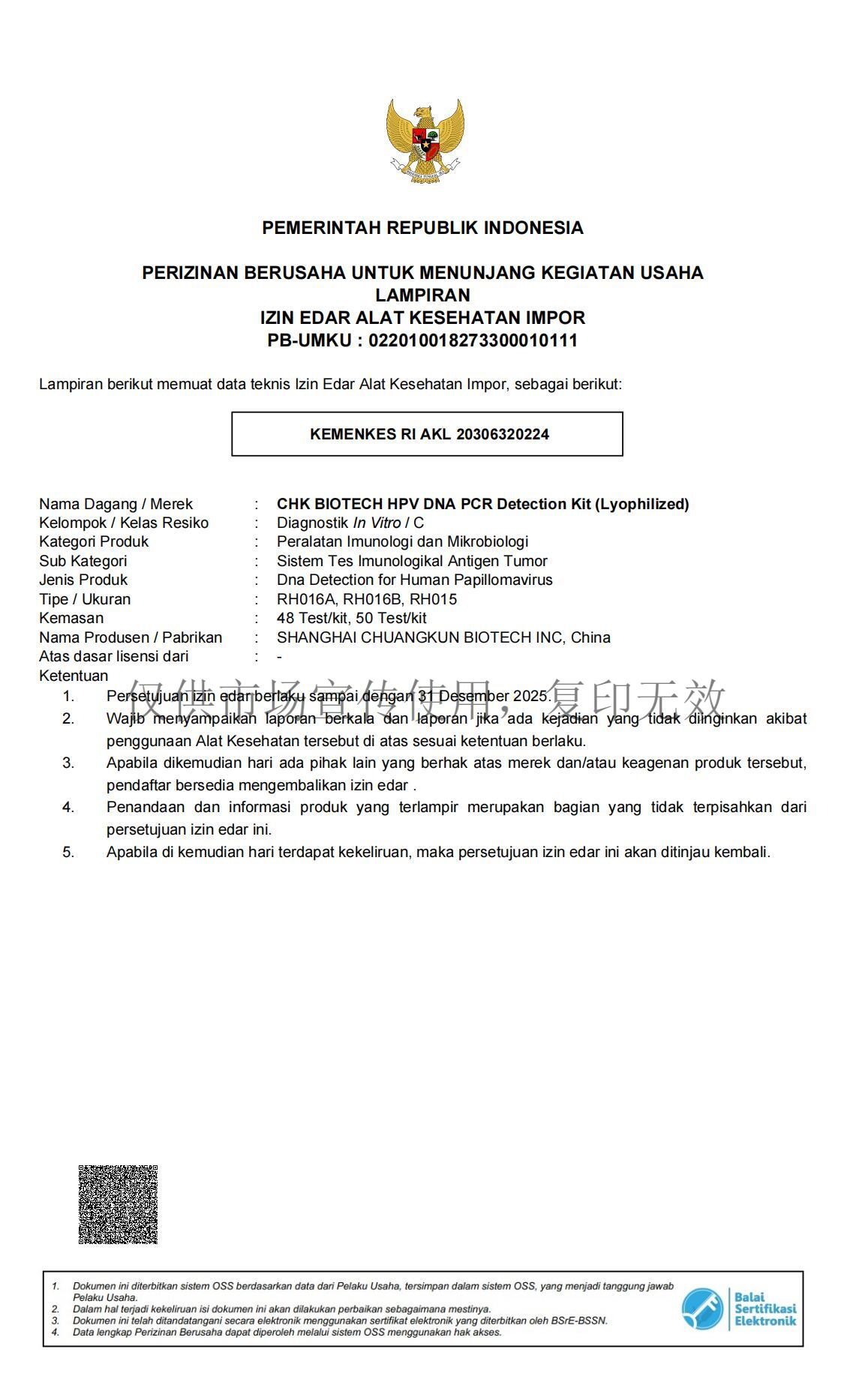 According to the statistics of the World Health Organization ,in the year 2020, cervical cancer in the world, the incidence of cervical cancer among female malignant tumors ranked fourth after lung cancer, breast cancer and colorectal cancer. In the worldwide, about 500,000 women develop cervical cancer each year and about 200,000 die from the disease. Cervical cancer is the only malignancy of well-known etiology among human malignancies. Human papillomavirus (HPV) infection has been shown to be the main cause of cervical cancer and its precancerous lesions (cervical intraepithelial neoplasia (CIN), with HPV16 and 18 types contributing more than 50% of cervical cancer precancerous lesions. On November 17, 2020, the World Health Organization (WHO) launched the Global Strategy to Accelerate the Elimination of Cervical Cancer, emphasizing the importance of HPV screening testing. On July 6, 2021, WHO updated and released guidelines for the screening and treatment of cervical precancerous lesions in cervical cancer prevention, recommending high-risk human papillomavirus (high-risk HPV) DNA testing as the preferred screening method for cervical cancer screening.
Chuangkun Biotech HPV (12+3) DNA PCR detection kit (lyophilized) is based on multiplex PCR-fluorescent probe technology and is suitable for conventional four-channel PCR instrument. The product adopts the production process of all component lyophilization, and the kit can be transported and stored at room temperature, which solves the pain point of cold chain transportation of conventional liquid reagents, and can greatly reduce the logistics and transportation costs of overseas sales. This product is mainly used for in vitro detection of human papillomavirus in cervical exfoliated cells, covering 15 high-risk types, and can identify three subtypes 16, 18 and 52. The product has the characteristics of high sensitivity (LOD is 500 copies/ml), high specificity, high throughput and internal reference quality control, and adopts extraction-free direct expansion technology and cooperates with Chuangkun Biotech Thunder series rapid fluorescence PCR instrument detection equipment to complete the rapid detection of 16~96 samples in 40 minutes, and the results are accurate and reliable.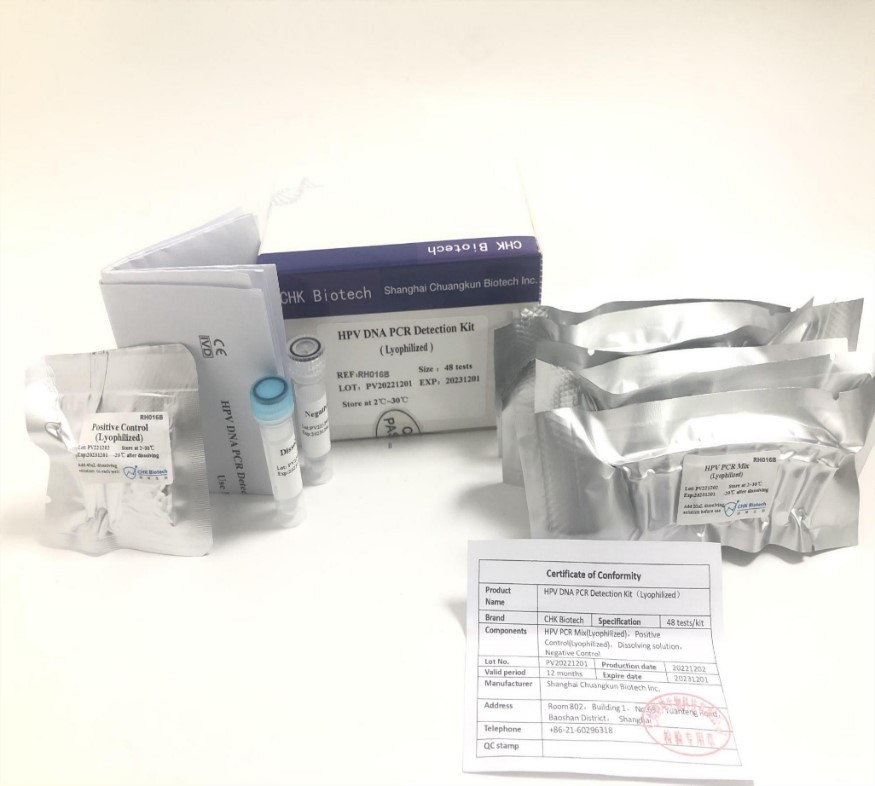 The acquisition of the Indonesian FDA registration certificate is a full recognition and affirmation of Chuangkun Biotech's products. In the future, we will continue to adhere to the market-oriented, scientific and technological innovation as the support, constantly enhance the core competitiveness of enterprises, with a global vision to build advantageous brands, through unremitting efforts and persistence, to promote the development of the health industry, to achieve the dream of human health and strive hard!
---
Post time: May-23-2023