Model UF-150 Ultra-Fast Real-time PCR System
Product Detail
Product Tags
New sample format and state-of-the-art hardware technology makes the difference.
GENECHECKER adopted special polymer chip (Rapi:chipTM) which enables even faster thermal treatment of samples in it than the case of using PCR tubes for conventional PCR Instruments. 8°C/sec ramping rate can be achieved, for both heating and cooling, through the thermal cycling mechanism of GENECHECKER.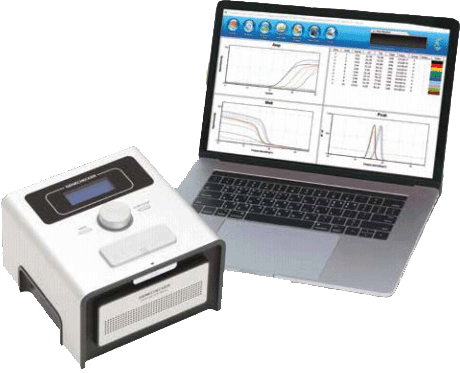 Innovative detection mechanism ensures reliable results of analysis.
Integrated camera module of GENECHECKER fully monitors and records the fluorescence signal of samples during reaction process and the recorded signals are processed and displayed within GeneRecorder software for analysis.GENECHECKER provides precise result of reaction with unique data processing method, compared to the conventional Instruments In the market, which collects the fluorescence signal with optical scanning method, GENECHECKER software adopted key analysis parameters which are similar to conventional Instruments in the market and any users can easily make use of this Intuitive analysis tool.GENECHECKER comes with GeneRecorder software and Its license. Every units are individually calibrated before shipping and no user;calibration is needed to run the instrument.
Fast and easy qPCR platform that benefits your application
1.Chip based sample format and ultra-fast ramping provides extremely rapid output -"40cycles in 20 minutes"
2.Real-time analysis through dedicated software
3.Small footprint (20cm x 20cm x 12.5cm) for laboratory and POCT use
4.DC power driven-battery operation possible using optional power kit
5.Intuitive control with LED Indicated jog-dial and LCD display
6.One-step reverse transcriptase PCR available for RNA application
This could be your point-of-care molecular diagnostics platform.
GENECHECKER Model UF-150  platform can be applied to point-of-care molecular diagnostics using its it ultra-fast reaction capability and easy-to-use interface for analysis. Aside from standard platform, Genesystem offers OEM manufacturing service in order to customize the design and performance tailored to the requirements of its clients in molecular diagnostics industry
Intuitive UI of GeneRecorder software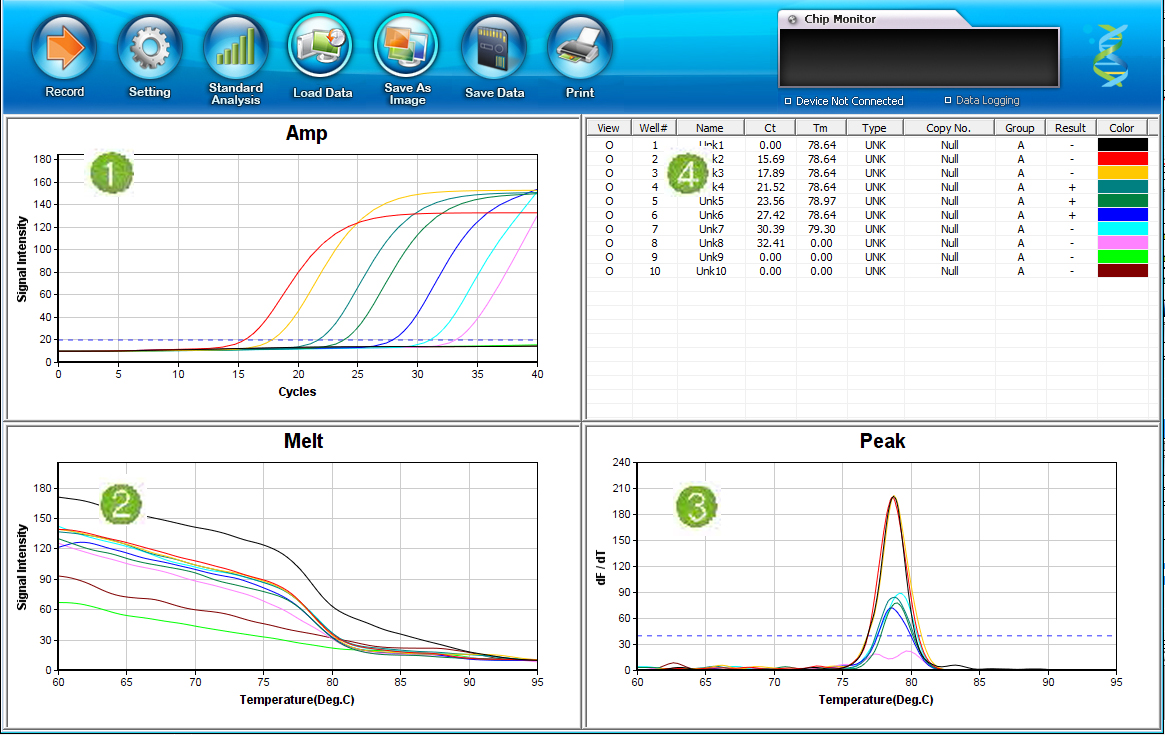 1. Real-time amplification curves are displayed in this section.
2. As a tool of post-reaction analysis, melt cycle is performed and the change of fluorescence signal during melt cycle is displayed in this section once melt cycle is finished.
3.Based on the result of melt cycle, melt peak is displayed for easy identification and comparison of Tm values.
4. This section shows the reaction data such as Ct and Tm. In case of quantitation, copy numbers are also displayed.
Operating Mechanism

Precise Control of Peltier Element

Temperature Accuracy

±0.3°C

Temperature Uniformity

±0.1°C

Ramping Rate

8.0°C/s

Range of Temperature Setting

35-65°C (1.0°C Increment) for RT Step,20-99°C (1.0°C Increment) for PCR

Sample Format

Polymer Based 3-Dimensional Microfluidic Chip

Number of Samples per Run

10

Reaction Volume

10µL

Typical PCR Duration

less than 20 Minutes for 40 Cycles (without RT Step)

 Method of Detection

Analysis of Digitized Fluorescence Signal

Display

Text LCD(4 Line)

Integrated Memory

Saves up to 12 PCR Protocols

Type of Excitation

High Brightness LED

Excitation Wavelength

465nm ± l0nm

Number of Detection Channel

1 (FAM, SYBR Green)

Method of Fluorescence Measurement

Integrated Camera Module (CMOS)

PC Connection

USB 2.0A to B(PC to Device

Only available through GeneRecorder)

Power (Wattage)

AC 110-230V (50-600Hz) Input/DC 12V Output (70 W)

Dimension/We*9ht

20(w) x 20(d) x 12.5(h) cm / 2.6kg
Cat. No.           Description / Pack Size
001151     Model UF-150  Ultra-Fast Real-time PCR System /1 SET
003001     Car Power Kit /1 SET
003002     Battery Power Kit/ 1 SET

Shanghai Chuangkun Biotech Inc.
Adress: Area A, Floor 2, Building 5, Chenxiang Road, Jiading District, Shanghai, China.
Tel: 4-86-400-079-6006      +86-21-60296318
Website: www.chkbio.cn     E-mail: admin@chkbio.com
---
Previous:
Wholesale Price China Infectious Disease Testing - CHK-800 Automatic nucleic acid extractor – Chuangkun
---