UF-300 Real-time PCR System Flyer v1.0
Product Detail
Product Tags
UF-300 Real-time PCR System
Fast, Compact and Intuitive Platform for Point-of-care Molecular Diagnostics
◦ Chip based reaction provides rapid output- "40 Cycles in 20 Minutes".
◦ Intuitive user interface (LCD touch panel) makes the test simple and easy.
◦ Small footprint of the platform makes it ideal for point-of-care testing applications.
◦ DC driven operation with low power consumption (Battery operation is possible.)
◦ Improved temperature accuracy and uniformity to meet the requirements in diagnostics.
◦ The model with dual detection channels (FAM/ROX) is available.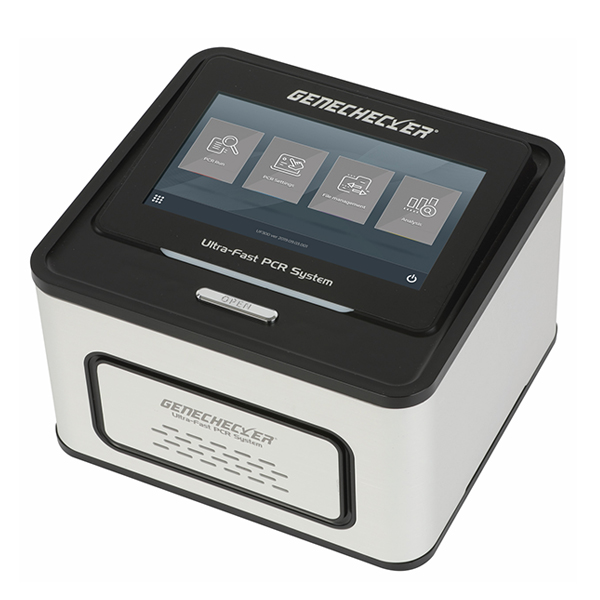 Innovative platform to make your PCR diagnostics faster
Long turn around time of PCR test and its bulky and heavy instrumentation have been the key factors limiting the spread of this highly precise and sensitive detection method in point-of-care diagnostic applications. Genesystem invented a microfluidic chip based PCR method associated with compact and sophisticated hardware mechanism which dramatically reduces the TAT of PCR testing down under 20 minutes. GENECHECKER® platforms adopted proprietary polymer chip (Rapi:chip™) which enables even faster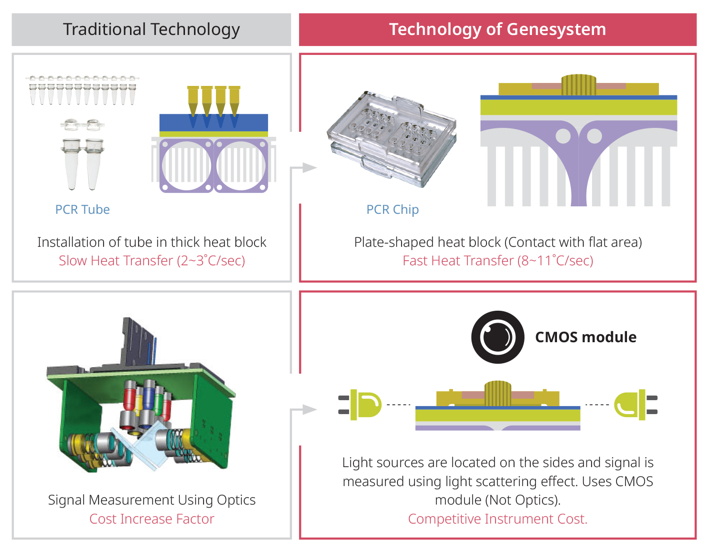 thermal treatment of the samples in it than the case of using PCR tubes at conventional PCR instruments. The thermal cycling mechanism of GENECHECKER® achieves 8°C/sec ramping rate for both heating and cooling. The unique test format and state-of-the-art hardware technology of GENECHECKER® platform makes the PCR tests faster than ever.
Integrated touch panel user interface for intuitive controls
GENECHECKER® UF-300 real-time PCR system has touch panel interface on the top so that users can intuitively set the parameters and instantly run the tests. This 8 inch sized panel is made of TFT display to provide brighter view and faster response.
Improved instrument performance for delicate diagnostic application
While it maintains its unique performances of ultra-fast reactions, GENECHECKER® UF-300 real-time PCR system offers improved temperature accuracy and uniformity comparing to earlier versions of GENECHECKER® systems.  Adding to the model having single detection channel (FAM), the one with dual detection channel (FAM/ROX) is also available for the applications demanding to run internal controls.
| | |
| --- | --- |
| Operating Mechanism | Precise control of peltier element |
| Temperature Accuracy | ± 0.2°C |
| Temperature Uniformity | ± 0.2°C (well to well) |
| Temperature Stability | 8°C / second |
| Ramping Rate | 8°C / second |
| Range of Temperature Setting | 1 ~ 99°C (0.1°C resolution) |
| Sample Format | Polymer based 3-dimensional microfluidic chip |
| Number of Sample per Run | 10 |
| Reaction Volume | 10μl |
| Method of Detection | Measurement of fluorescence signal using CMOS module |
| Display and User Interface | 7 inch TFT display capacitive touch panel |
| Type of Excitation | High brightness LED |
| Detection Channel | FAM (single channel version), FAM/ROX (dual channel version) |
| Emission Wavelength | (FAM) 472nm + 10nm  / (ROX) 575nm + 10nm  |
| Power | AC 110-230V (50-60Hz) Input / DC 12V Output |
| Wattage | 85 W |
| Connectors | USB Type B (2 ports) |
| Dimension | 218(w) x 200(d) x 142(h) mm |
| Weight  | 3.3 kg |

Cat. Number

Description

1199100600

1199100601

9699100100

9699100101

9699100102

9900300701

GENECHECKER® UF-300 Real-time PCR System with Single Detection Channel

GENECHECKER® UF-300 Real-time PCR System with Dual Detection Channels

Rapi:chip™ 10-well PCR Chip (S-Pack), Standard Pack (48 pcs/PK)

Rapi:chip™ 10-well PCR Chip (M-Pack), Medium Pack – 8 PK of Standard Pack

Rapi:chip™ 10-well PCR Chip (L-Pack), Large Pack – 16 PK of Standard Pack

Optional Power Cable for Car Cigarette Power Socket 

Shanghai Chuangkun Biotech Inc.
Area A, Floor 2, Buiding 5, Chenxiang Road, Jiading District, Shanghai, China
Tel:+86-60296318 +86-21-400-079-6006
Website: www.chkbio.cn E-mail: admin@chkbio.com
---
---