Porcine epidemic diarrhea virus RT-PCR detection kit
Product Detail
Product Tags
Porcine epidemic diarrhea virus RT-PCR Detection Kit (Lyophilized)
This kit uses real-time fluorescent RT-PCR method to detect the RNA of Porcine epidemic diarrhea virus (PEDV) in tissue disease materials such as tonsils, lymph nodes and spleen and liquid disease materials such as vaccine and blood of pigs. It is suitable for the detection, diagnosis and epidemiological investigation of Porcine epidemic diarrhea virus . The kit is an ALL-READY PCR SYSTEM(Lyophilized), which contains the reverse transcriptase, DNA amplification enzyme, reaction buffer, specific primers and probes required for fluorescent RT-PCR detection..
Components
Package
specification
Ingredient

PEDV PCR Mix

1 ×bottle                  (Lyophilized powder)

 

50Test

dNTPs, MgCl2, Primers

, Probes,Taq DNA polymerase

6×0.2ml 8 well-strip tube

(Lyophilized)

48Test

Positive Control

1*0.2ml tube (lyophilized)

 

10Tests

Plasmid or Pseudovirus  containing PEDV specific fragments

Dissolving solution

1.5 ml Cryotube

500uL

/

Negative Control

1.5 ml Cryotube

200uL

0.9%NaCl
(1)The kit can be transported at room temperature.
(2)The shelf life is 18 months at -20℃ and 12 months at 2℃~30℃.
(3)See the label on kit for the production date and expiration date.
(4)The lyophilized powder version reagent should be stored at -20℃ after dissolution and the repeated freeze -thaw should be less than 4 times.
GENECHECKER UF-150, UF-300 real-time fluorescence PCR instrument.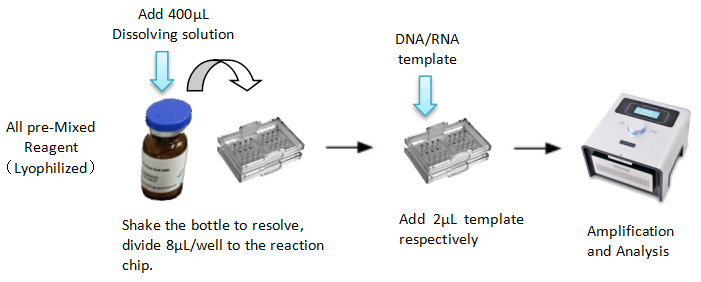 b)  8 well-strip tube version: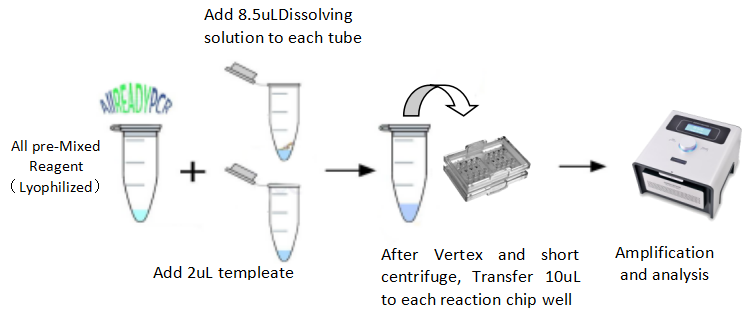 Recommended Setting
Step

Cycle

Temperature (℃)

Time

Fluorescence channel

1

1

48

8min

/

2

1

95

2min

/

3

40

95

5s

/

60

10s

Collect FAM fluorescence
*Note:  The signals of FAM fluorescence channels will be collected at 60℃.
Interpreting Test Results

Channel

Interpretation of results

FAM Channel

Ct≤35

PEDV Positive

Undet

PEDV Negative

35<Ct≤40

Suspicious result, retest*
*If the retest result of FAM channel has a Ct value ≤40 and shows typical "S" shape amplification curve, the result is interpreted as positive, otherwise it is negative.
---
---