E.coli O157:H7 PCR detection kit
Product Detail
Product Tags
E.coli O157:H7 PCR detection kit (Lyophilized)
Escherichia coli O157:H7 (E.coli O157:H7) is a gram-negative bacterium belonging to the genus Enterobacteriaceae, which produces a large amount of Vero toxin. Clinically, it usually occurs suddenly with severe abdominal pain and watery diarrhea, followed by hemorrhagic diarrhea a few days later, which can lead to fever or no fever, and death in severe cases. This kit is suitable for the qualitative detection of Escherichia coli O157:H7 in food, water samples, feces, vomit, bacterium-enhancing liquid and other samples using the principle of real-time PCR.The kit is an ALL-READY PCR SYSTEM(Lyophilized), which contains the DNA amplification enzyme, reaction buffer, specific primers and probes required for fluorescent PCR detection..
Components
Package
specification
Ingredient

E.coli O157:H7 PCR Mix

1 ×bottle                  (Lyophilized powder)

 

50Test

dNTPs, MgCl2, Primers

, Probes,Reverse Transcriptase,Taq DNA polymerase

6×0.2ml 8 well-strip tube

(Lyophilized)

48Test

Positive Control

1*0.2ml tube (lyophilized)

 

10Tests

Plasmid containing E.coli O157:H7 specific fragments

Dissolving solution

1.5 ml Cryotube

500uL

/

Negative Control

1.5 ml Cryotube

200uL

0.9%NaCl
(1)The kit can be transported at room temperature.
(2)The shelf life is 18 months at -20℃ and 12 months at 2℃~30℃.
(3)See the label on kit for the production date and expiration date.
(4)The lyophilized powder version reagent should be stored at -20℃ after dissolution and the repeated freeze -thaw should be less than 4 times.
GENECHECKER UF-150, UF-300 real-time fluorescence PCR instrument.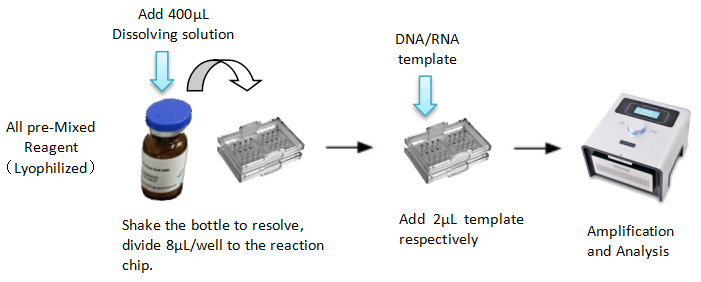 b)  8 well-strip tube version: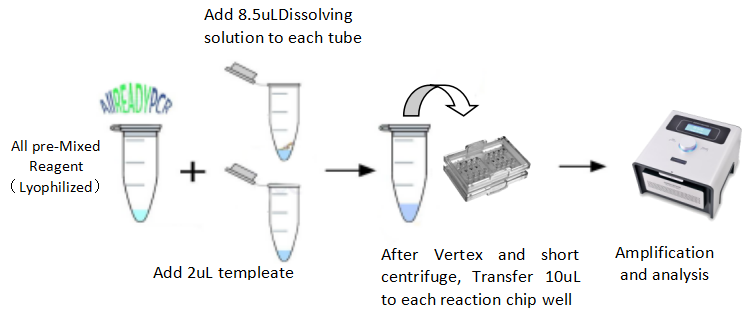 Recommended Setting
Step   

 Cycle

Temperature (℃)  

Time

Fluorescence channel

1

1

95

2min

 

2

40

95

5s

 

60

10s

Collect FAM fluorescence
*Note:  The signal of FAM fluorescence channel will be collected at 60℃.
Interpreting Test Results

Channel

Interpretation of results

FAM Channel

Ct≤35

E.coli O157:H7 Positive

Undet

E.coli O157:H7 Negative

35<Ct≤40

Suspicious resut, retest*
*If the retest result of FAM channel has a Ct value ≤40 and shows typical "S" shape amplification curve, the result is interpreted as positive, otherwise it is negative.
---
Previous:
MICROBIAL AEROSOL SAMPLER
---