Salmonella PCR Detection Kit
Product Detail
Product Tags
Salmonella PCR Detection Kit (lyophilized)
Salmonella belongs to the Enterobacteriaceae and Gram-negative enterobacteria. Salmonella is a common food-borne pathogen and ranks first in bacterial food poisoning. The main symptoms of food poisoning caused by Salmonella are nausea, vomiting, abdominal pain, headache, chills and diarrhea. This kit uses the principle of real-time fluorescent PCR and is suitable for the qualitative detection of Salmonella in food, water samples, feces, vomit, and enrichment liquid.
Components
Package
specification
Ingredient

PCR Mix

1 ×bottle                  (Lyophilized powder)

 

50Test

dNTPs, MgCl2, Primers

, Probes,Taq DNA polymerase

6×0.2ml 8 well-strip tube

(Lyophilized)

48Test

Positive Control

1*0.2ml tube (lyophilized)

 

10Tests

Plasmid or Pseudovirus containing specific fragments

Dissolving solution

1.5 ml Cryotube

500uL

/

Negative Control

1.5 ml Cryotube

100uL

0.9%NaCl
(1)The kit can be transported at room temperature.
(2)The shelf life is 18 months at -20℃ and 12 months at 2℃~30℃.
(3)See the label on kit for the production date and expiration date.
(4)The lyophilized powder version reagent should be stored at -20℃ after dissolution and the repeated freeze -thaw should be less than 4 times.
GENECHECKER UF-150, UF-300 real-time fluorescence PCR instrument.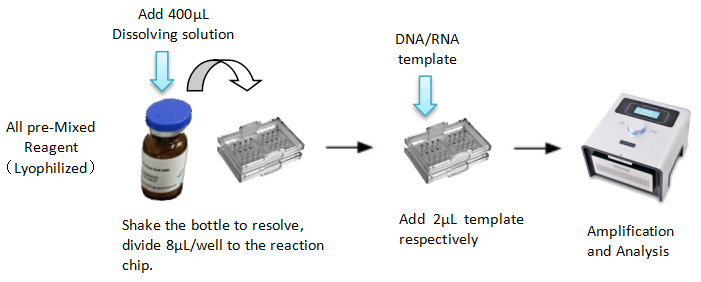 b)  8 well-strip tube version: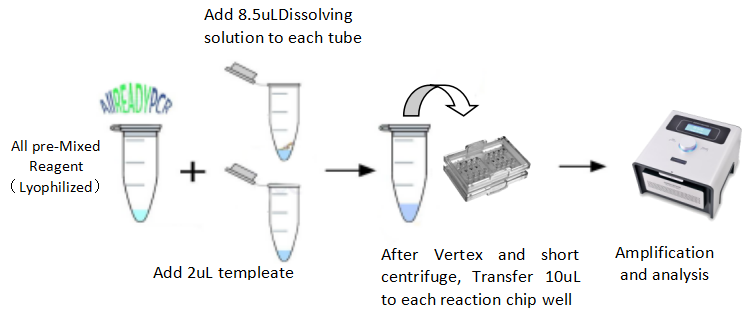 Recommended Setting
Step

Cycle

Temperature (℃)

Time

Fluorescence channel

1

1

95

2min

/

2

40

95

5s

/

60

10s

Collect FAM fluorescence
Interpreting Test Results

Channel

Interpretation of results

FAM Channel

Ct≤35

Salmonella Positive

Undet

Salmonella Negative

35<Ct≤40

Suspicious resut, retest*
*If the retest result of FAM channel has a Ct value ≤40 and shows typical "S" shape amplification curve, the result is interpreted as positive, otherwise it is negative.
---
Previous:
Norovirus (GⅡ) RT-PCR Detection Kit
---