MA-688 real-time PCR System
Product Detail
Product Tags
Product instruction:
MA-688 Real-Time Quantitative Thermal Cycler adopts maintance-free LED as the excitation light source, which is operated by external computer, with high efficiency and convenience, and can be widely used in basic medical research, pathogen detection, molecular cloning, genetic screening, gene expression, gene typing and transgenic detection, food safety testing and epidemic monitoring and other fields.
MA-688 Real-Time is an economical fluorescence quantitative PCR instrument with full open design tailored to qPCR beginners and small laboratories based on MA-6000 series technical platform.
Compact body, 48x0.2ml international standard sample arrangement, standard 3/4 color fluorescence detection channels, MA-Smart reduce the time cost and economic cost for your experiments, help you to open the era of fluorescence quantitative PCR experiment in advance.
Product Features
1.Excellent temperature control performance
High quality semiconductor thermoelectric module, combined with German high-end PT1000 temperature sensor and edge thermal compensation temperature
2.Super multi-purpose function
Peltier Base heating module with multi-point temperature control can provide gradient temperature function of optimization experiment
3.Extraordinary optical design
Maintance-free LED excitation light source, fluorescence signal of high temperature resistant professional fiber real-time transmission of 48-hole, high signal-to-noise ratio photodiode reading signal, ensure no edge effect
4.Friendly, intuitive software setup interface
Quick response parameter setting wizard, intuitive sample setting wizard, powerful experimental data analysis function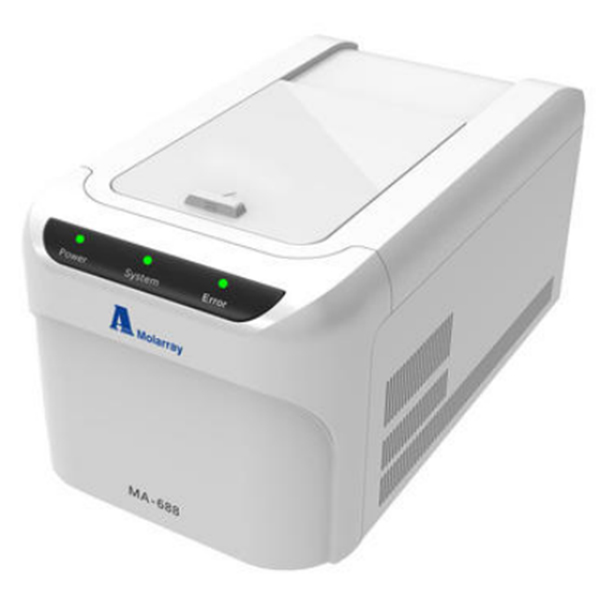 5.Fast lab start and report output
It does not need preheating and is easy to operate on and off; and can be used for experiments in 30s. Intelligent data analysis, report output can be completed within 10 minutes
Software Function &Date Processing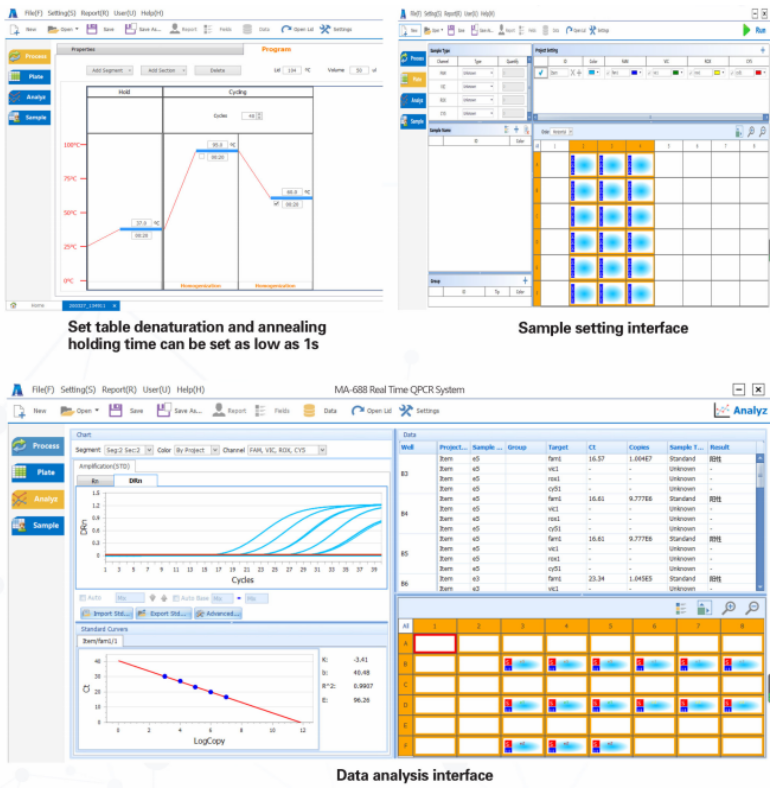 Performance Parameters
Basic performance

Overall dimensions

466*310*273mm

Weight

18Kg

Power supply

100~240V,50~60Hz

Communication Interface

USB

Operating environment parameters

Environment temperature

18℃~30℃

Relative humidity

<85%

Transportation and storage temperature

-20~55℃

Transport and storage relative humidity

<85%

PCR system performance

Tube capacity

48*0.2ml

Sample volume

20-120ul

Apply consumables

0.2ml PCR tube. 8*0.2ml PCR tube

Temperature control range

4℃~99℃

Temperature accuracy

<0.1℃

Temperature uniformity

<±0.25℃

Heating speed

4.5℃/S

Cooling speed

3℃/S

Heating cooling

Semiconductor mode

Hot cover

Electric heat cover

Fluorescence detection system performance

Light source

High brightness LED

Detector

PD

Excitation and detection of propagation media

High temperature resistant professional fiber

Linear range of samples

I00-109copies

Sample linearity

R>0.99

Sample testing repeatability

CV<1.00%

Excitation wavelength

The first channel: 470nm±10nm

The second channel: 525nm± 10nm

The third channel: 570nm±10nm

The fourth channel: 620nm± 10nm

Detection wavelength

The first channel: 520nm±10nm

The second channel: 570nm±10nm

The third channel: 620nm±10nm

The fourth channel: 670nm±10nm

Shanghai Chuangkun Biotech Inc.
Area A, Floor 2, Buiding 5, Chenxiang Road, Jiading District, Shanghai, China
Tel:+86-60296318 +86-21-400-079-6006
Website: www.chkbio.cn E-mail: admin@chkbio.com
---
Previous:
CHK-800 Automatic nucleic acid extractor
---